49 frames, at 75% best quality in Registax.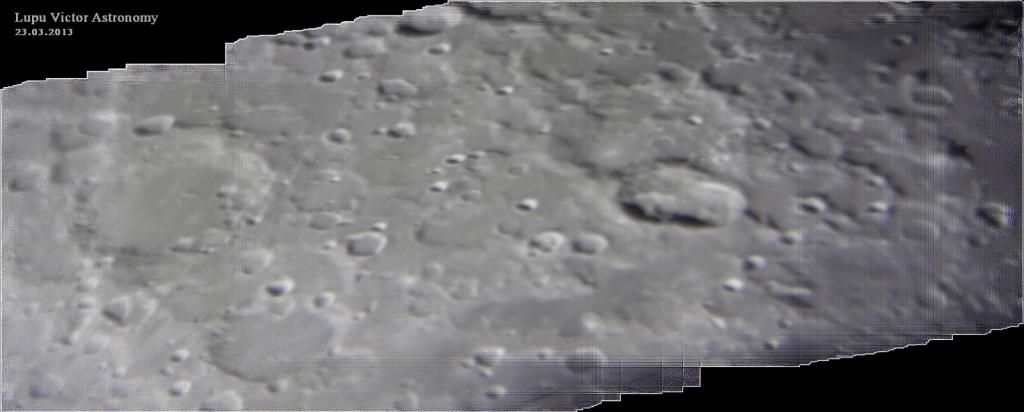 128 frames, at 80% best quality in Registax.
84 frames, at 80% best quality in Registax.
We must remember that these images are inverted and so the cardinal points must be considered as such.
Hainzel, a peanut shaped crater, is located on the western side of the Moon, along with Hainzel A (53 km) (larger part), and C (38 km) (smaller part). Hainzel (70 km), after which are named all its satellite craters, is somewhere between the two.

Around Hainzel are a lot of small other craters: on the northwest are Hainzel's satellite craters, and south-east the sector is reserved for the satellite craters of the incomplete crater, Mee (132 km). Among them, there are also satellite craters of Epimenides (27 km), on the east.
Other craters seen in the pictures are: Wilhelm (107 km) Longomontanus (145 km) and Bayer (47 km).

Video pate be watched here: Enjoying the Moon. Video of Tycho crater on the Moon by telescope.
Age of the Moon: 11 days
Distance: 386 658
Phase: 85% (0% = New, 100% = complete)
Optical Telescope Celestron C8 "Newtonian, plossl 20mm, 2x Barlow
Mount: CG5 (EQ5)
Device: Sony CX-130
Video Mode: Full HD 1920x1080 progressive
Filter: no
Date: 23/03/2013
Location: Baia Mare, Romania
Processing and editing: Sony Vegas 10, Registax