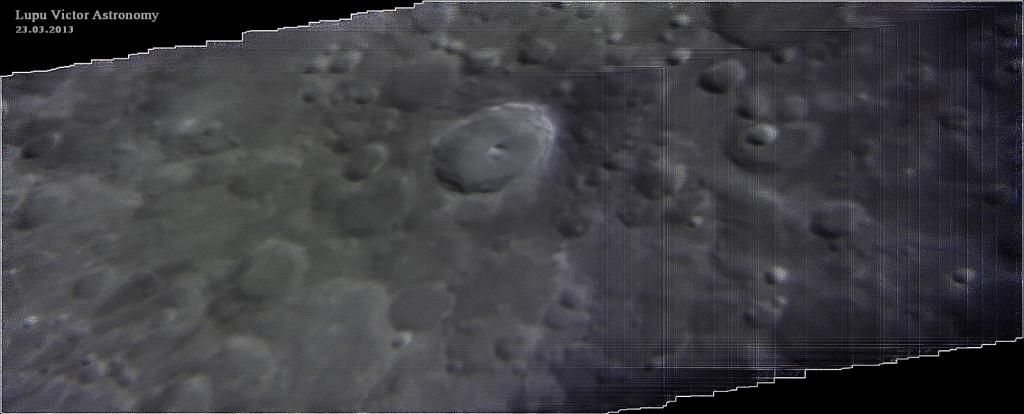 92 frames, 75% best quality in Registax.

78 frames, 65% best quality in Registax.


65 frames, 65% best quality in Registax.
48 frames, 80% best quality in Registax.
Tycho (85 km), is an "explosive" crater that wanted to stand out in the spotlight, and he succeeded. Whoever puts his eye in an eyepiece of a telescope, it is impossible not to notice the rays of light, and not make you wonder what is that crater. Seen from a distance, you can see some "spikes" that are scattered over long distances, very long, impossible to ignore, especially when the Moon it's full.
In these images, the crater is seen close, and these above mentioned features are not visible, but we still observe his dazzling brightness reflected from the material excavated by the impact that formed this great crater .To see what I'm talking about, see the last image with the Full Moon.
Video can be seen here: Enjoying the Moon. Video of Tycho crater on the Moon by telescope.
Age of the Moon: 11 days
Distance: 386 658
Phase: 85% (0% = New, 100% = complete)
Optical Telescope Celestron C8 "Newtonian, plossl 20mm, 2x Barlow
Mount: CG5 (EQ5)
Device: Sony CX-130
Video Mode: Full HD 1920x1080 progressive
Filter: no
Date: 23/03/2013
Location: Baia Mare, Romania
Processing and editing: Sony Vegas 10
Image from 13 february 2011.