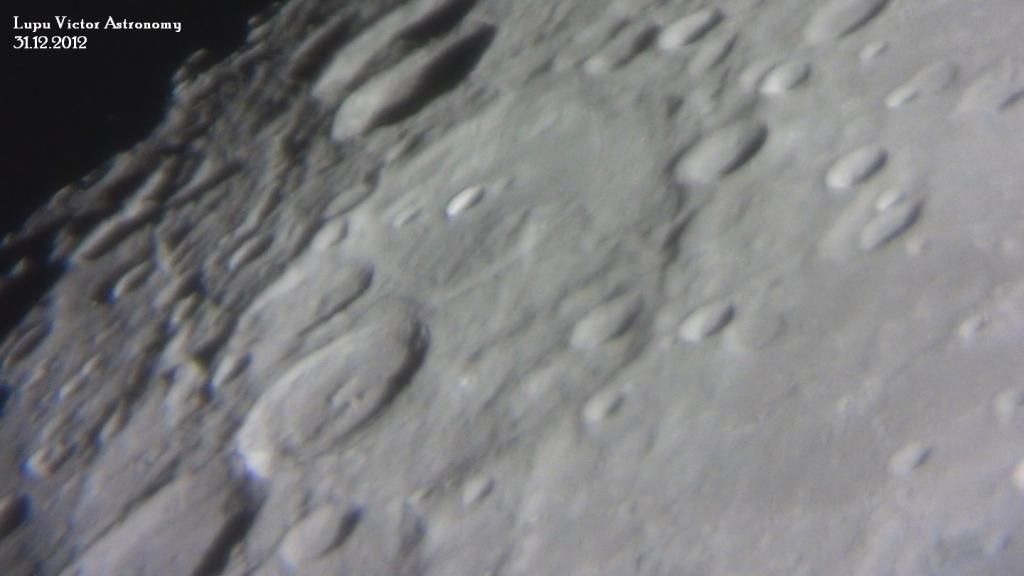 These are the clearest images of the crater called
Janssen
(190 km) south of the Moon, and I say this without any hesitation, which we identify here through an astronomical telescope. Although these are simple video captures, I think that was the Moon phase which helped camcorder to shoot images at maximum clarity.
More about the entire area, and sharper images processed in Registax, you can see here:
Janssen giant crater on the Moon through telescope. Registax Images
.
The video is here:
Live Images Of The Moon In Stunning Detail Vlacq and Janssen craters
.
Crater Janssen, 74 frames at 85% best quality in Registax/
Age of the Moon: 17 days
Phase: 93% (0% = New, 100% = full)
Distance: 394.960 km
Optics: Celestron C8-Newtonian telescope, 20mm Plossl, 2x Barlow
Mount: CG5 (EQ5) motorized
Camera: Sony CX130
Filter: no
Date: 31/12/2012
Location: Baia Mare, Romania
Processing: FastStone Image Viewer