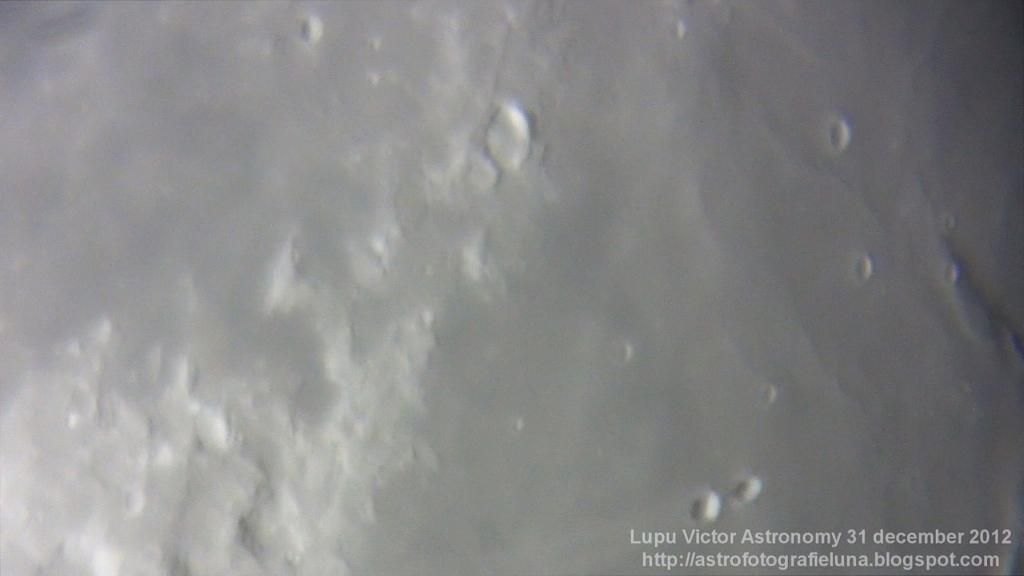 We are here on the east of the Moon in a large area. On the center top, see a small crater called
Secchi
(25 km). It can not be viewed through binoculars, but only through a more advanced astronomical observation device such as a telescope.
Secchi, is located at the boundary between
Mare Tranquillitatis
and
Mare Fecunditatis
. Around it, there are two characteristics that bears its name: on the north is a mountain formation called
Montes Secchi
and south is
Rimae Secchi
, a short "moat".
Secchi crater rim is interesting because its discontinued north and south, giving the impression that it has two exits.
Age of the Moon: 17 days
Phase: 93% (0% = New, 100% = full)
Distance: 394.960 km
Optics: Celestron C8-Newtonian telescope, 20mm Plossl, 2x Barlow
Mount: CG5 (EQ5) motorized
Camera: Sony CX130
Filter: no
Date: 31/12/2012
Location: Baia Mare, Romania
Processing: FastStone Image Viewer