In this article, a some craters are observed in the images (few that's right), located on Mare Imbrium, south of it. Almost at the terminal, left, we see two craters at a distance of 160 km from each other. The above is Lambert (30 km), and the bottom is Pytheas (20 km).
Neighboring craters are Timocharis (34 km) at east, southeast is Eratosthenes (58 km) and Copernicus (93 km) at south. Between Pytheas and Copernicus are the Montes Carpatus, named after the Carpathian mountains on Earth. These features can be seen in the older image for orientation below.
Due to the small angle at which the sun shines, you can see more lunar terrain features in the area of these craters.
For example, from Lambert (30 km) starts some "cracks": one northeast and one to the southeast. These are called Rima

Stille.
Lambert has a tall edge. In these images, the inside not seen because of the shadow, but if we would, on the floor is a small crater in the center, instead of a central peak.
South of Lambert is a "ghost" crater barely distinguishable being covered by lava. This is Lambert R, and is 55 km. It can be seen only when the Sun is at a low angle, and this phase of the Moon is perfect for being visible.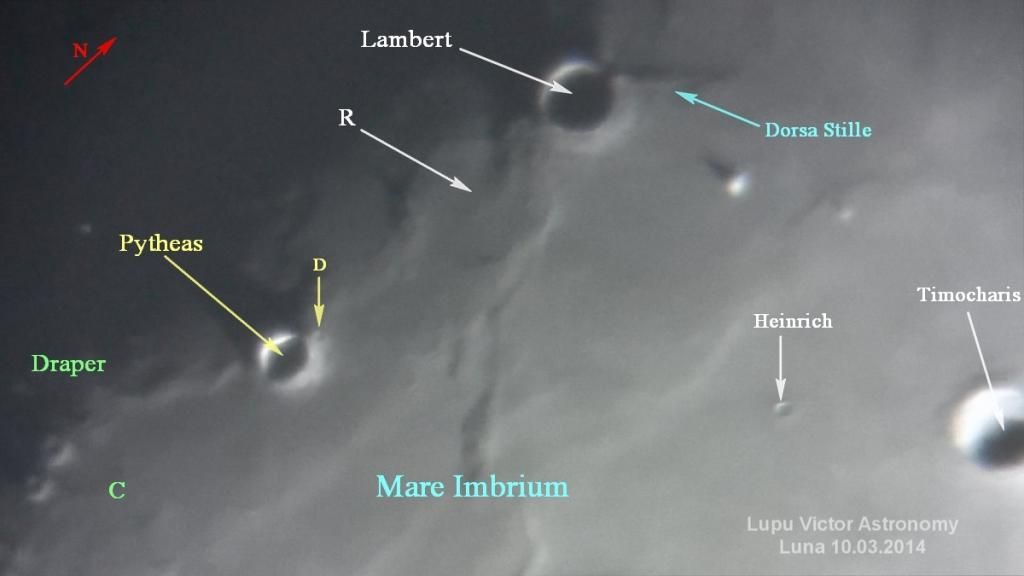 Moon Age: 9.05 days
Phase: 70.5% (0% = New, 100% = Full)
Distance: 399.221 km

Optics: Celestron C8-Newtonian telescope, 20mm Plossl, 2x barlow
Mount: CG5 (EQ5)
Camera: Sony CX130
Filter: no
Date: 10/03/2014
Location: Baia Mare, Romania
Processing: FastStone Image Viewer