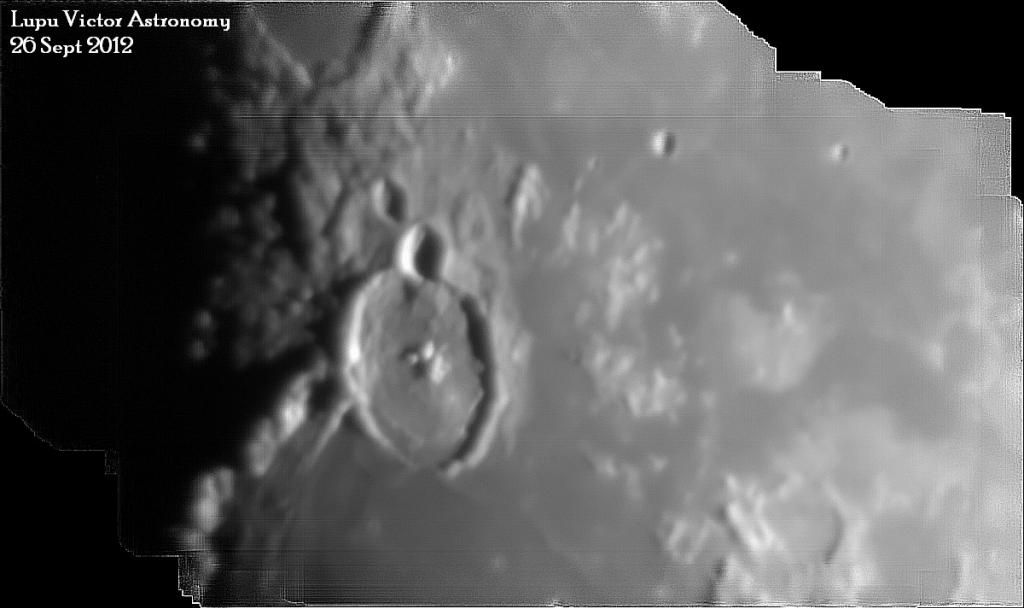 466 frames at 85% best quality in Registax.
This image depicts the west of the Moon.
At center in image is the crater Gassendi (110 km). To the south is the Mare Humorum and to the north is Oceanus Procellarum.
In the west is the terminal due to the phase of the Moon at the time. Because of this, craters west of Gassendi, are not visible, as is the crater Mersenius.
This image is a video processing in Registax.
I like the features observed in the crater Gassendi. We can see the mountains at the center of its floor, and the surrounding terrain.
Age ofthe Moon: 27.32 days
Distance: 381.700 km
Phase: 88.8% (0% = New, 100% = Full)
Optics: Celestron C8-Newtonian telescope, Plossl 20 mm, 2x Barlow
Mount: CG5 (EQ5)
Camera: Sony CX130
Filter: no
Date: 26/09/2012
Location: Baia Mare, Romania
Processing: Registax, FastStone Image Viewer
Image for guidance, from 04 March 2012.