This area is very close to the terminal and craters are more difficult to recognize. However, we can see that we are close to the southern area of the Moon, where craters are more numerous. Here we observe craters like
Wurzelbauer
(88 km) and
Gauricus
(79 km), two closer craters and similar in size, south of
Pitatus
(97 km), but with different floor characteristics and their edges.
Wurzelbauer has a floor full of swamps and hills, low margins, with a depth of 2.2 kilometers, compared to Gauricus which has a depth of 2.7 km, with a smoother floor strewn with small craters on it and the interior edge.
Wurzelbauer's south, are observed only
Heinsius
crater (64 km) and its satellite craters. These images may be located at the top, because it is upside-down as viewed through a telescope. Heinsius is flooded crater by darkness.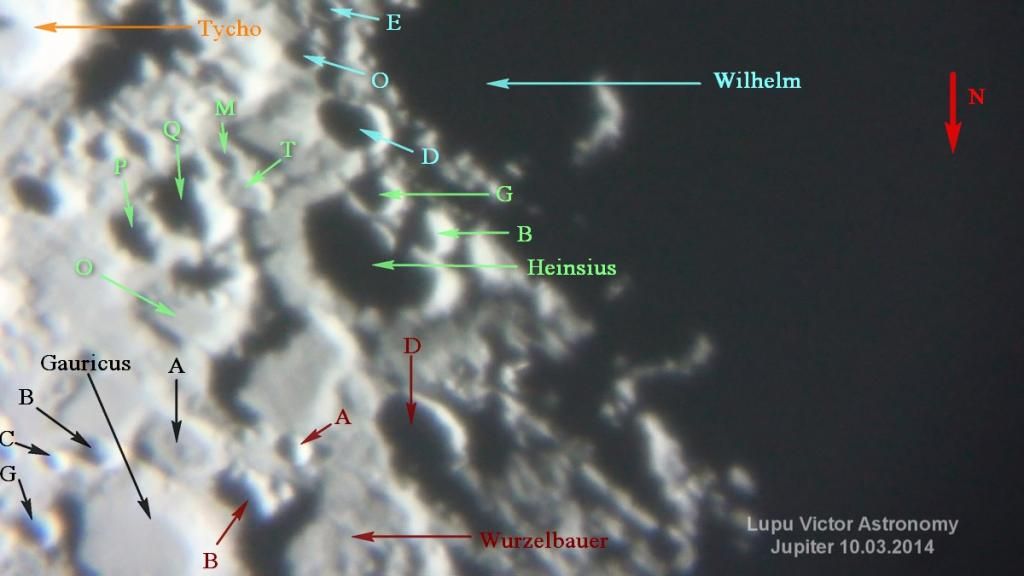 Moon Age: 9.05 days
Phase: 70.5% (0% = New, 100% = Full)
Distance: 399.221 km
Optics: Celestron C8-Newtonian telescope, 20mm Plossl, 2x barlow
Mount: CG5 (EQ5)
Camera: Sony CX130
Filter: no
Date: 10/03/2014
Location: Baia Mare, Romania
Processing: FastStone Image Viewer