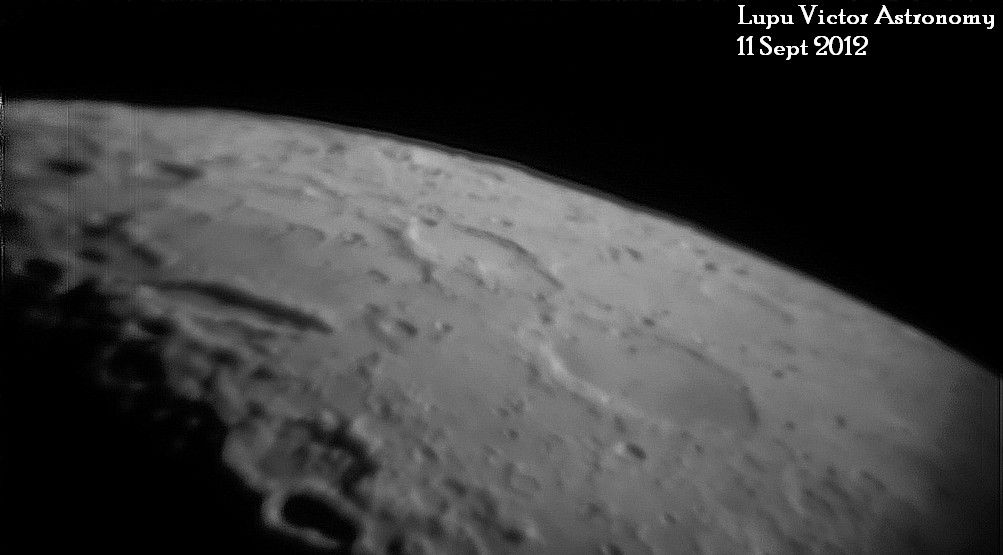 182

frames

at 80

%

best

quality

in

Registax

.
The Moon has it's "mysterious" ways in showing us its surface different, every time we observe it.
This phase reveals the western region, where there is not much, and darkness will cover the entire face of the Moon as we see it from Earth, to begin a New Moon in a few days.
The image is upside down, as seen through the telescope.
Craters seen here are Schickard (227 km), Phocilydes (114 km) and Nasmith (77 km).
Schickard here is similar to that observed in July 15, 2012. when the Moon was at a roughly similar stage (picture below).
Age of the Moon: 27 days
Distance: 387.568 km
Phase: 17% (0% = New, 100% = full)
Optics: Celestron C8 "-Newtonian telescope, 20 mm Plossl
Mount: CG5 (EQ5)
Camera: Sony CX130
Filter: no
Date: 11/09/2012
Location: Baia Mare, Romania
Processing: Registax, FastStone Image Viewer