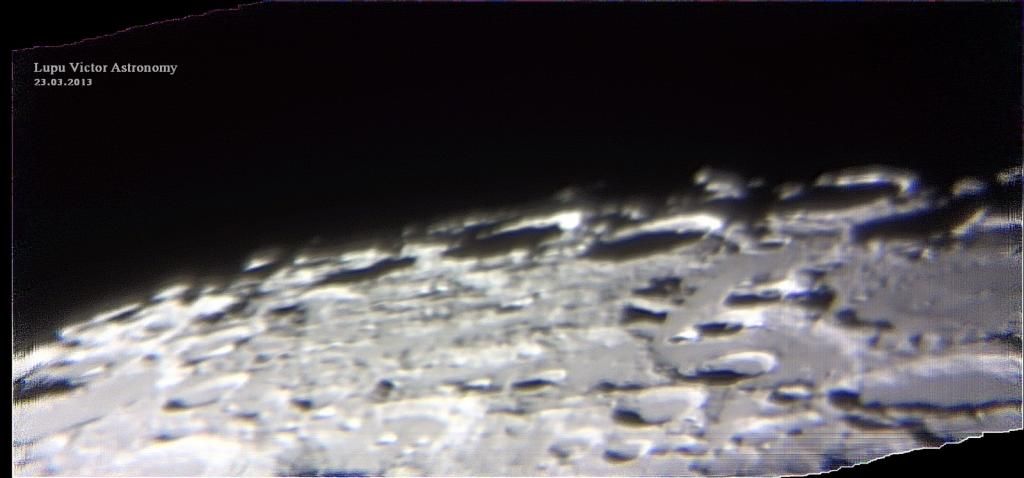 139 frames at 85% best quality in Registax.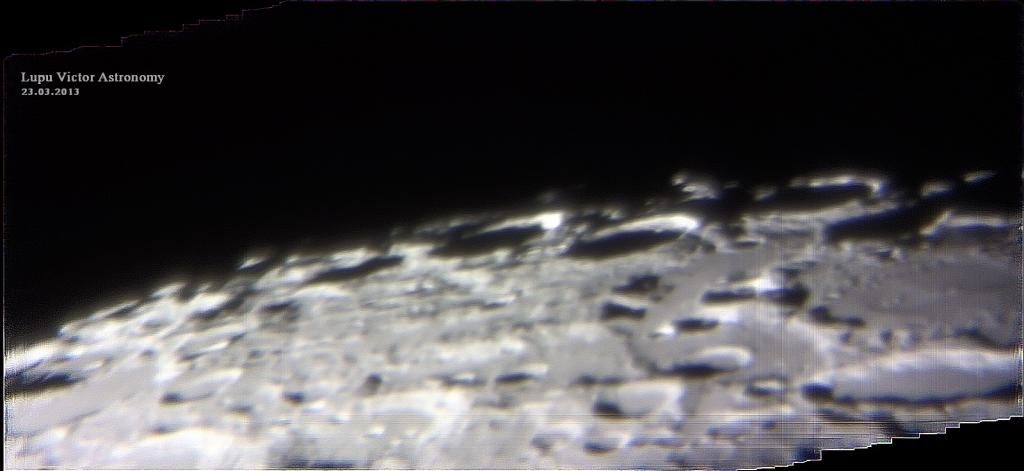 90 frames at 80% best quality in Registax.

92 frames at 80% best quality in Registax.
Although we think we look at the edge of the Moon, especially as we look at the top of the pictures, the craters becoming more oval , hinting that are on the edge, we are actually only close to the edge , but we're still not there. The darkness on the top is actually the terminal , that phase of the Moon at that time, the area between light and shadow .
Observe larger craters flooded by the dark. They appear to be the same size . These ones are arranged in a zig -zag , and although 3 are visible, 4 craters are actually there, called from left to right: Kircher (73 km) , Bettinus (71 km) , Zucchius (64 km) and Segner (67 km) , the latter being flooded by lava , leaving only its lip on the surface .
From Zucchius to Schiller , observe a smooth valley which is in contrast to most of the rugged cratered terrain. This " valley " has on it a few large craters : Weigel A (17 km), B (37 km) , and Rost A (39 km), being the closest to the

caterpillar

-shaped crater , Schiller (180 km) .
Circular and eroded crater at the bottom of images, is Scheiner (110 km) and his left is another, similar in size , called Blancanus (105 km) .
Klaproth (119 km) , over which is superimposed Casatus (111 km) crater is seen on the left in the image , close to the terminal.
These images are processings in Registax program , of a video taken with the camera attached to the telescope.
Video:
Great video of south craters of the Moon
.

Age of the Moon: 11 days
Distance: 386 658
Phase: 85% (0% = New, 100% = complete)
Optical Telescope Celestron C8 "Newtonian, plossl 20mm, 2x Barlow
Mount: CG5 (EQ5)
Device: Sony CX-130
Video Mode: Full HD 1920x1080 progressive
Filter: no
Date: 23/03/2013
Location: Baia Mare, Romania
Processing and editing: Sony Vegas 10