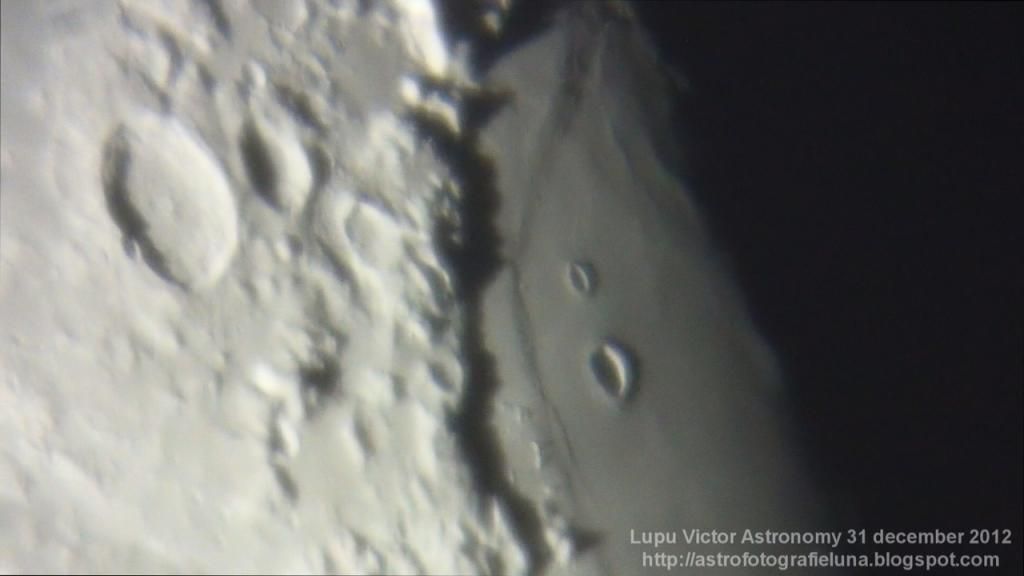 When astronomers first observed the Moon through a telescope and called those large dark spots seas, they were not wrong, although they did not know the exact truth about them. Those spots are really seas, but made of hardened lava. An example is the western
Mare Crisium
that looks like a basin with high shores.
Not far from the "shore" we see a "high wave" called
Dorsum Oppel
.
In this basin we can distinguish among not too many craters, a small one located here, called
Peirce
(19 km). To its north is a smaller one called Swift (10 km).
You can view the images processed in Registax 5
here
.
462 frames at 85%
in
Registax.
Age of the Moon: 17 days
Phase: 93% (0% = New, 100% = full)
Distance: 394.960 km
Optics: Celestron C8-Newtonian telescope, 20mm Plossl, 2x Barlow
Mount: CG5 (EQ5) motorized
Camera: Sony CX130
Filter: no
Date: 31/12/2012
Location: Baia Mare, Romania
Processing: FastStone Image Viewer