The video was also used in Registax program to process images with higher quality, but also for simple video captures.
It's a bit more light on these images, but here are distinguished craters close to one another like
Geber, Abenezra and Azophi
(45/42/48 km) .
The video was made with the camera mounted on the telescope, to be more exact on the telescope eyepiece. To protect the telescope from vibrations, I used a tracking motor from Lacerta, and thus the image was more stable.
However, even with this tracking device for celestial bodies, there were vibrations of the telescope tube, causing the image to be slightly unstable. For this, I used the video stabilization option in Sony Vegas editing software, so the video was 100% correct on this issue.
Unstable aspect of the image through the telescope is caused by a combination of turbulence in the Earth's atmosphere and increased streams of heat from the ground and buildings.
Images were obtained by attaching a camera directly into the eyepiece of an astronomical telescope of 8 inch Newtonian; For this reason the eyepiece visual field was increased.
Images processed in Registax, here.
Unprocessed images (video captures), of craters Heraclitus / Licetus are here.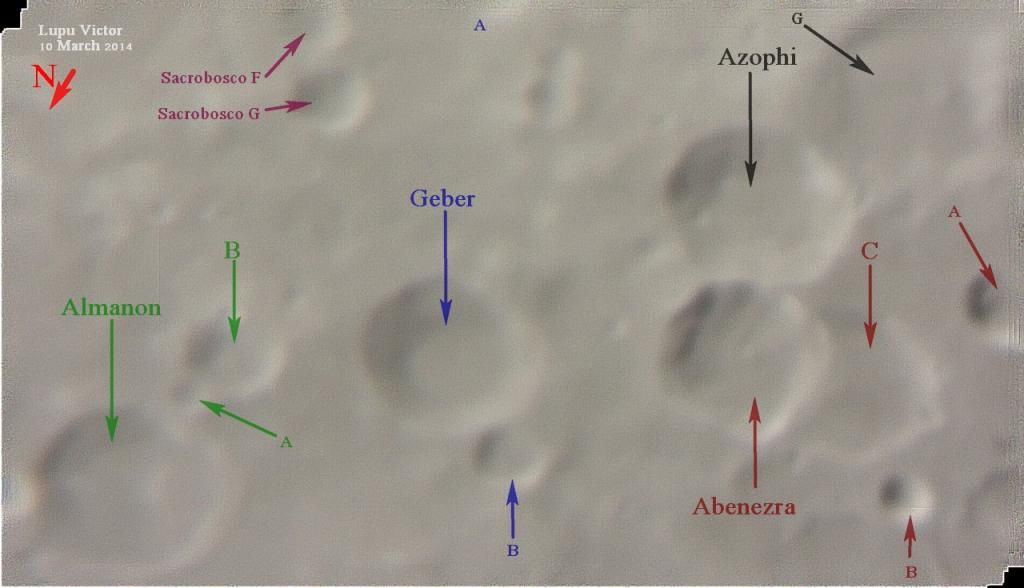 250 video frames in Registax.
Moon Age: 9.05 days
Phase: 70.5% (0% = New, 100% = Full)
Distance: 399.221 km
Optics (telescope or lenses): Celestron C8-Newtonian telescope, eyepiece 20mm Plossl, 2x barlow
Mount: CG5 (EQ5)
Camera: Sony CX130
Filter: no
Date: 10/03/2014
Location: Baia Mare, Romania
Processing: Sony Vegas HD Platinum 10.0