We talked about this area and other articles such as those in the links below, where we examined the southwest region of the Moon. The difference here is that picture quality is even better since these are Registax processings.
The images are overturned, so therefore cardinal points are reversed, but that's for a more relaxing view of these craters of various sizes. Among them we mention craters like
Schickard
(227 km)
Hainzel
(70 km),
Noggerath
(31 km),
Drebbel
(30 km),
Phocylides and Nasmith
(114/77 km)
Wargentin
(84 km) and
Inghirami
(91 km). Other features are
Palus Epidemiarum
, and
Lacus Timoris
and
Lacus Excellentiae
.
The video from which I extracted the images are here.
Video captures (snapshots) are here.
2938 video frames in Registax.
1173 video frames in Registax.
2938 video frames in Registax.
Images were obtained by attaching a camera directly into the eyepiece of an astronomical telescope of 8 inch Newtonian; For this reason the eyepiece visual field was increased.
In the picture below are labeled craters and other lunar features in the region. To better understand this photo, you should note that the label with the name or the letter of larger craters could be found at their center, and on the small craters, you should find them around them, usually above.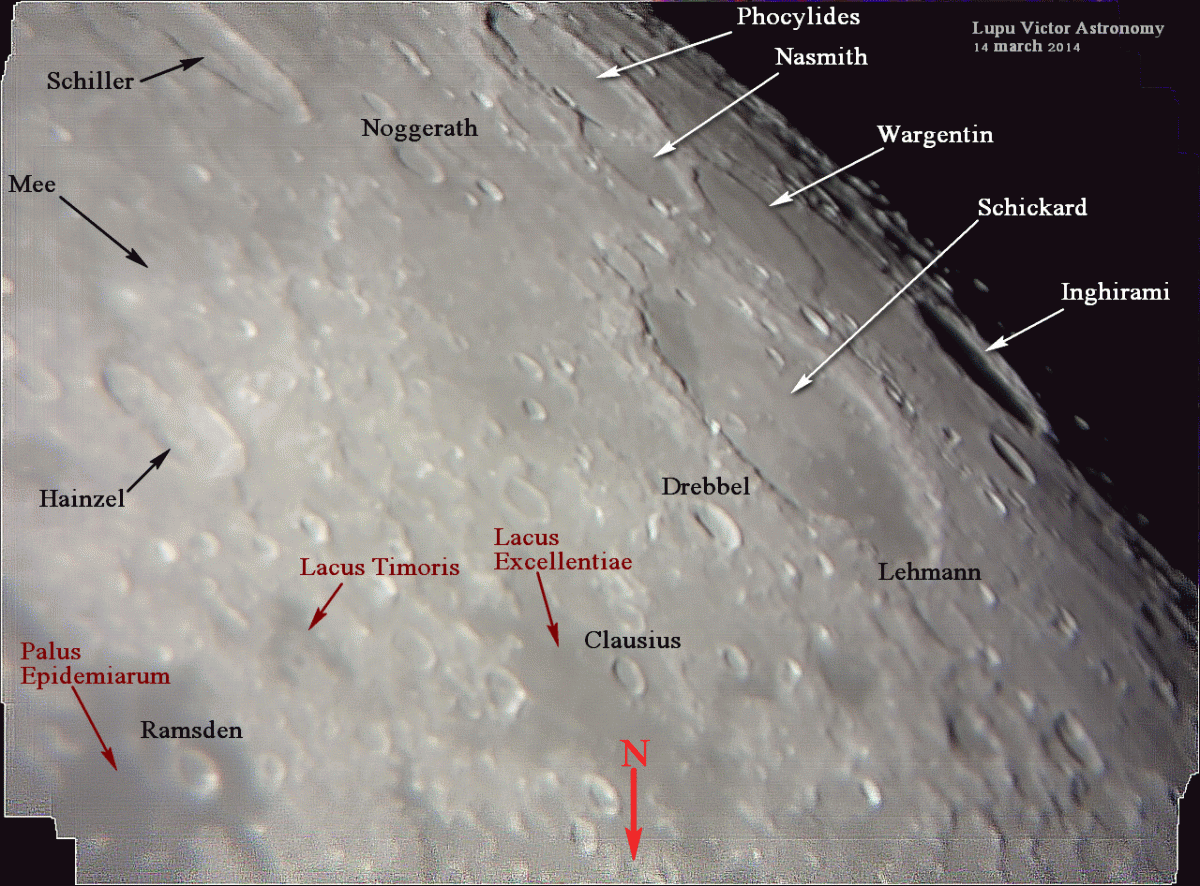 Magnitude: -12.03
Phase: 70.5% (0% = new, 100% = full)
Distance: 398.311 km
Sidereal Period: 27.32 days
Illuminated: 92.2%
Optics: Celestron C8-Newtonian astronomical telescope
Eyepiece: Plossl 20mm, 2x Barlow
Mount: CG5 (EQ5)
Camera: Sony CX130
Filter: no
Date: 14/03/2014
Location: Baia Mare, Romania
Processing: Registax, FastStone Image Viewer